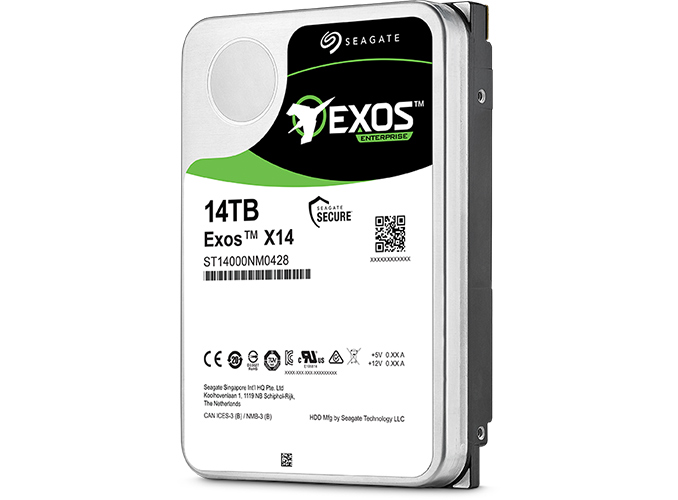 Seagate this week formally introduced its first hard drive with 14 TB capacity aimed at cloud datacenters that does not use shingled magnetic recording. The new Exos X14 HDDs are filed with helium and are based on the latest-generation PMR (perpendicular magnetic recording) platters, running at 7200 RPM.
Update: Seagate has officially confirmed that the Exos 14 is based on eight PMR platters and uses TDMR heads.
It is logical to expect the drive to rely on a brand-new platform that uses eight 1.75-TB platters and uses two-dimensional magnetic recording (TDMR) to ensure predictable read performance of very thin tracks. Since the drive is filled with helium, helium drives can typically boast a relatively low power consumption, however we await further details. Similarly, because of increased areal density, the new drive should also offer higher sequential data transfer rate than its predecessors. Seagate does report that the drive has higher random I/O responsiveness than ancestors and rivals.
In addition to higher capacity and performance, the Seagate Exos X14 features Seagate Secure hardware encryption technology. Also, the new HDD is FIPS 140-2/Level 2 and ISO/EIC 15408 certified, meeting governments' requirements for secure storage of data.
The Exos X14 is Seagate's response to Toshiba's MG07ACA HDD with 14 TB capacity announced last year, although until we recieve further information, we cannot do a direct comparison. The major benefit of both drives is their increased capacity that enables datacenter operators to store 3360 TB of data per rack (compared to 2440 TB with 10 TB HDDs), which is a key advantage for companies that need to maximize their storage capacity per square meter and per watt, while meeting other TCO objectives. Another indisputable win of 14 TB hard disks from Seagate and Toshiba (vs. HGST's Ultrastar Hs14) is their conventional magnetic recording technology, which ensures predictable writing performance and permits drop in compatibility of the HDDs with existing storage applications.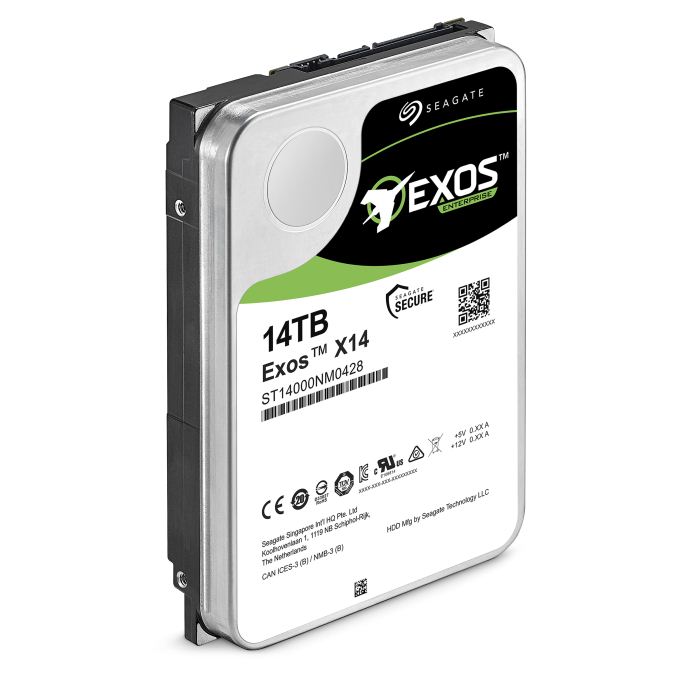 Seagate's Exos X14 is currently sampled with select customers, such as Baidu. The manufacturer plans to start volume shipments of the Exos X14 this summer, but does not disclose exact availability timeframe or approximate pricing. Keep in mind that Toshiba's MG07ACA HDD with 14 TB capacity will ship in Q2, so Seagate's Exos X14 will have at least one rival when it becomes available later this year.
Related Reading
Source: Seagate