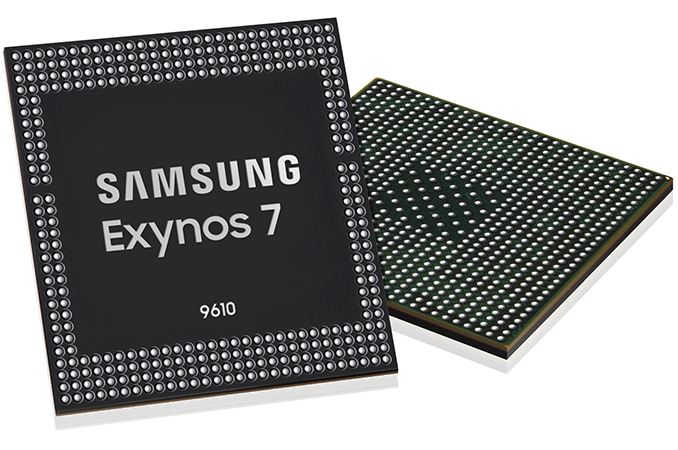 Samsung last week introduced its new Exynos SoC designed for mainstream late 2018/early 2019 smartphones. The Exynos 7 9610 is outfitted with high-performance general-purpose cores, an advanced GPU, a built-in 4G/LTE modem as well as 480fps imaging capabilities enhanced with a neural network engine.
The Samsung Exynos 7 9610 SoC integrates four Arm Cortex-A73 cores running at 2.3 GHz, four more energy-efficient Arm Cortex-A53 cores operating at 1.6 GHz, and an Arm Mali-G72 graphics processor with an unknown configuration and frequency. In addition, the Exynos 7 9610 integrates a Cortex-M4F-based sensor hub for always-on applications that require instant feedback, such as gesture recognition or voice commands. Samsung does not disclose anything about the memory controller of the Exynos 7 9610, but it is reasonable to expect it to support LPDDR4/LPDDR4X memory.
Connectivity capabilities of the Exynos 7 9610 include 802.11ac 2×2 MIMO Wi-Fi and Bluetooth 5.0 for close-range communications. For the baseband, the SoC has a Cat 12 LTE modem supporting three-way carrier aggregration (3CA) for 600 Mbps download and 2CA for 150 Mbps upload speeds. It also supports all the global positioning systems, including GPS, GNSS, GLONASS, BeiDou, and Galileo.
One of the key features of the Exynos 7 9610 is its advanced ISP (image processing unit) that support 480fps slow-motion video in full HD. It also has a neural network engine for enhanced face detection that can be used to analyze images and apply proper camera presets to improve quality of photographs. Another capability of the ISP is advanced smart depth sensing that is designed to enable bokeh or out-focused portraits to be taken with a single camera, which makes phones slightly cheaper to make. Samsung does not disclose maximum sensor resolution supported by its ISP.
Samsung will mass produce its Exynos 7 9610 using its 10 nm process technology in the second half of the year, thus, the chips will be used for phones around the turn of the year.
Related Reading
Source: Samsung