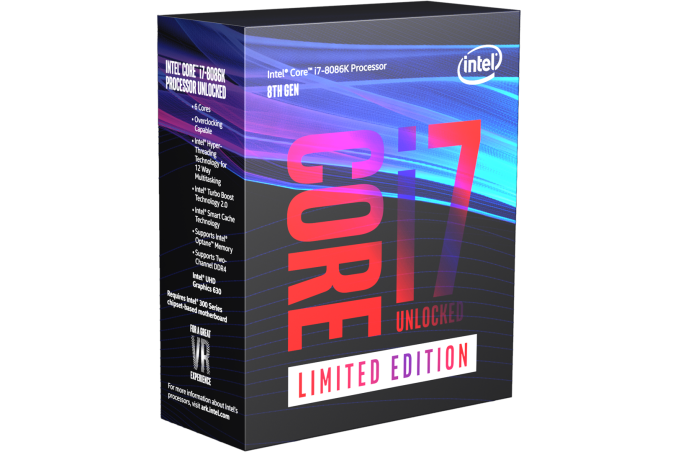 Alongside the announcement of their new x86 anniversary-themed hex-core processor, the Core i7-8086K, Intel also announced that they would be giving a significant portion of their inventory away as part of a massive, globe-crossing giveaway. In total, Intel is producing just 50,000 units of the specially binned Coffee Lake CPU. And of those, 8,086 – or about 16% – are slated to be given away starting tonight.
Intel 8th Generation 'Coffee Lake' Core i7 Desktop Processors
i7-8086K
i7-8700K
i7-8700
i7-8700T
Cores
6C / 12T
Base Frequency
4.0 GHz
3.7 GHz
3.2 GHz
2.4 GHz
Turbo Boost 2.0
(Single Core)
5.0 GHz
4.7 GHz
4.6 GHz
4.0 GHz
L3 Cache
12 MB
DRAM Support
DDR4-2666
Integrated Graphics
GT2: 24 EUs
IGP Turbo
1.20 GHz
PCIe Lanes (CPU)
16
TDP
95 W
95 W
65 W
35 W
Price (tray)
$425?
$359
$303
$303
At 8pm Eastern (midnight UTC), Intel will be running a series of national 24 hour sweepstakes for the processors. Besides being notable for the sheer number of processors being given away – I simply cannot recall the last time any single event gave away 4-digits' worth of CPUs – an interesting quirk of Intel's giveaway is that they are allocating a fixed number of CPUs in each sweepstakes nation. For the US this means 2,086 processors, another 2,000 for China, etc. Canada, South Korea, Taiwan, and other countries are also part of the giveaways. So while the giveaway crosses parts of the globe, the odds in any given nation are still decent, especially for places like Canada and Taiwan.
Intel Core i7-8086K Giveaway Regions
Country/Region
Number of Winners and Prizes Awarded
United States
2,086
Mainland China
2,000
Germany
1,000
Canada
500
France
500
The United Kingdom
500
South Korea
500
Taiwan
500
Japan
500
Note that this is a 24 hour giveaway; Intel is moving fast here and will be drawing winners next Monday. So for a shot at winning a CPU that, while lacking an official price, Intel is valuing at $425, there's a relatively short window to enter. Otherwise this leaves 41,914 processors to be split between retail and OEMs, and while the $400+ price tag makes it decidedly un-cheap, I don't imagine that Intel is going to have much trouble selling all of them.
Source: Intel