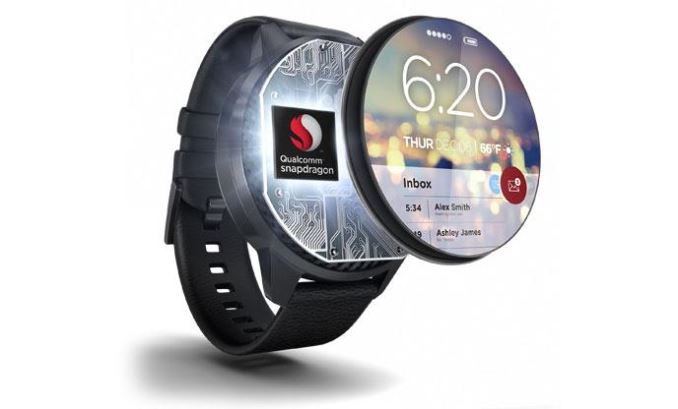 Today among the announcements of then new mid- and low-end SoC lineup Qualcomm also announced a new wearable platform dubbed the Snapdragon Wear 2500.
We don't have many details on the platform so we're just interpreting what's on the press release – but what seems to be happening here is that we're looking at a new platform combining an existing SoC with a new supporting IC, rather than an entirely new SoC succeeding the Snapdragon 2100. In terms of disclosed specifications, the SW2500 matches the SW2100 as it uses a quad-core Cortex A7 CPU cluster as well as an X5 modem.
Qualcomm Snapdragon Wear SoCs
Snapdragon Wear 2500
Snapdragon Wear 2100
Snapdragon Wear 1200
SoC
4x Cortex-A7 @ 1.2GHz
Adreno 304?
4x Cortex-A7 @ 1.2GHz
Adreno 304
Cortex-A7 @ 1.3GHz
Fixed-function GPU
Process Node
28nm LP?
28nm LP
28nm LP
RAM
LPDDR3-800 MT/s?
LPDDR3-800 MT/s
LPDDR2
Display
Up to 640x480 @ 60fps?
Up to 640x480 @ 60fps
Simple 2D UI
Modem
Qualcomm X5 (Integrated)
2G / 3G / LTE (Category 4 150/50 Mbps)
Qualcomm X5 (Integrated)
2G / 3G / LTE (Category 4 150/50 Mbps)
Connected version only
Qualcomm (Integrated)
2G (E-GPRS) / LTE
(Cat M1 & Cat NB1)
Connectivity
802.11b/g/n (2.4GHz),
BT 4.1 LE, NFC, GPS/GLONASS/Galileo/BeiDou, USB 2.0?
802.11b/g/n (2.4GHz),
BT 4.1 LE, NFC, GPS/GLONASS/Galileo/BeiDou, USB 2.0
Connected and Tethered versions
802.11b/g/n/ac, BT 4.2 LE, GPS/GLONASS/Galileo/BeiDou
The interesting thing about the Wear 2500 is the way that Qualcomm describes the improvements – notably the 14% improved battery life of the platform. This seems to have been achieved by a new PMIC that reduces the quiescent current of the system when the SoC is sleeping. The new power amplifiers are said to improve peak power efficiency by 20%. The new power delivery system is also noted to be 38% smaller than the predecessor which should allow vendors to optimise in terms of system PCB size and thus device dimensions.
The BSP (Board support package) provided by Qualcomm notably doesn't outright run Android Wear, but rather an optimised version of Android O that is aimed at fitting into a lower 512MB footprint, while it also also has further software optimisations in terms of power management to shut off software components when not needed.
Overall, Qualcomm is pitching the new wearable platform at the kid watch market, which is a very similar direction to what we saw from them with last year's Snapdragon Wear 1200 launch. This is a quickly growing market, especially in Asia, where parents are keen to equip their kids with these limited-functionality wearables to keep in contact with and tabs on their most valuable assets. The Wear 2500, by extension, would represent the next step up from the 1200 for more powerful devices, gaining a much more powerful CPU cluster (quad core versus single core), a real Adreno GPU, etc.
Given that Qualcomm is marketing this new platform for the kid watch segment, it's likely that this is not the overdue "true" successor to the Snapdragon Wear 2100 that we'd be hoping for. While we're awaiting confirmation, it also seems that the SoC on the new platform is the same one used in the 2100 so naturally the improvements are solely on the side of the supporting ICs such as the PMIC and RFFE, which would be a bit disappointing given the new naming for the platform.
The Snapdragon Wear 2500 is sampling right now and expected to come to market in the coming quarter, with Huawei expected to be the first company to come to market with a kids watch based on the platform.
Source: Qualcomm