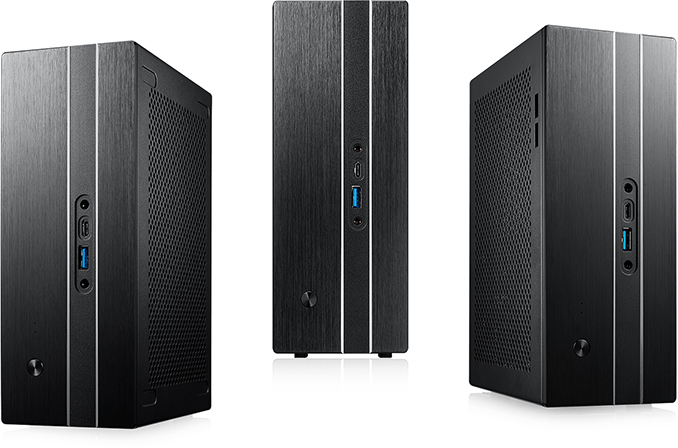 ASRock has recently introduced its new DeskMini GTX system that combines high-performance components and miniature Micro-STX form-factor. The new DeskMini GTX Z390 supports Intel's eight-core processors, up to DDR4-4000+ memory, and NVIDIA's GeForce GTX 10-series GPUs. As additional bonuses, the latest SFF PC also features two USB 3.1 Gen 2 headers and two RGB connectors.
As the name suggests, the ASRock DeskMini GTX Z390 is based on a motherboard running Intel's Z390 chipset and featuring multiple enhancements compared the previous generation ASRock DeskMini GTX Z370. The new SFF PC supports Intel's processors with up to 95 W TDP, including the top-of-the LGA1151 range Core i9-9900K. Also upgraded is the power delivery - in a bid to ensure stable operation of Intel's latest CPUs and increase overclocking potential of memory subsystem to DDR4-4000+, the Z390M-STX MXM motherboard design features a 5+1-phase CPU VRM compared to the 3+1 design on Z370. The new DeskMini GTX Z390 also has two USB 3.1 Gen 2 ports supporting up to 10 Gbps speed: a Type-C on the front and a Type-A on the back.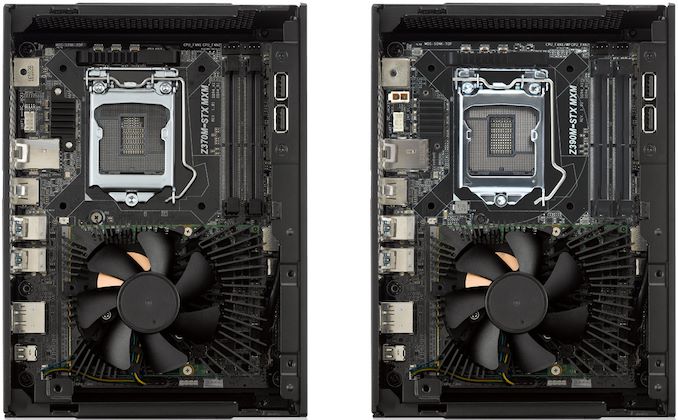 When it comes to expandability, just like before, the new Z390M-STX MXM motherboard has an MXM Type B+ slot supporting up to NVIDIA GeForce GTX 1080 8 GB graphics modules. As for storage, the DeskMini GTX Z390 has three M.2 slots supporting PCIe 3.0 x4 SSDs as well as two 2.5-inch bays for various storage devices.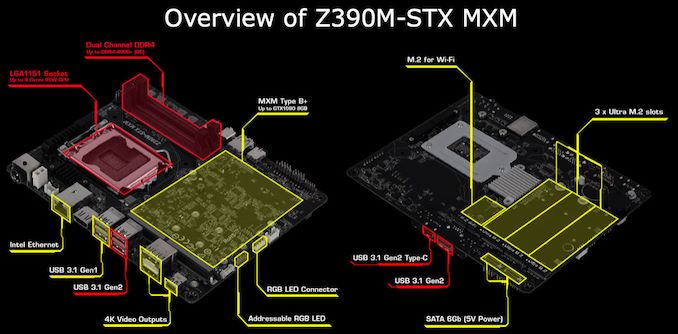 General connectivity wise, the Z390-based DeskMini GTX features a 802.11ac Wi-Fi + BT module (optional), Intel I219V-based GbE, USB 3.0 Type-A, USB 3.0 Type-C, multiple display outputs (one HDMI 1.4, one HDMI 2.0, one mini DisplayPort 1.4, one DisplayPort 1.4), 3.5-mm audio jacks, etc.
ASRock will offer two versions of the DeskMini GTX Z390: one with NVIDIA's GeForce GTX 1060 6 GB GDDR5 module and a 220 W external PSU, another equipped with NVIDIA's GeForce GTX 1080 8 GB GDDR5X and a 270 W external power supply. Both systems are already listed at the manufacturer's website, so expect them in retail in the coming weeks.
In addition to the DeskMini GTX Z390, ASRock also added the DeskMini GTX B360 to the lineup. The latter also has a 5+1-phase CPU VRM and supports Intel's 8th and 9th Gen Core processors with up to 65 W TDP, but naturally does not support overclocking and some other perks of the enthusiast-class machine (e.g., less PCIe lanes, so different M.2 configuration; no aRGB header, etc.).
Related Reading
Source: ASRock