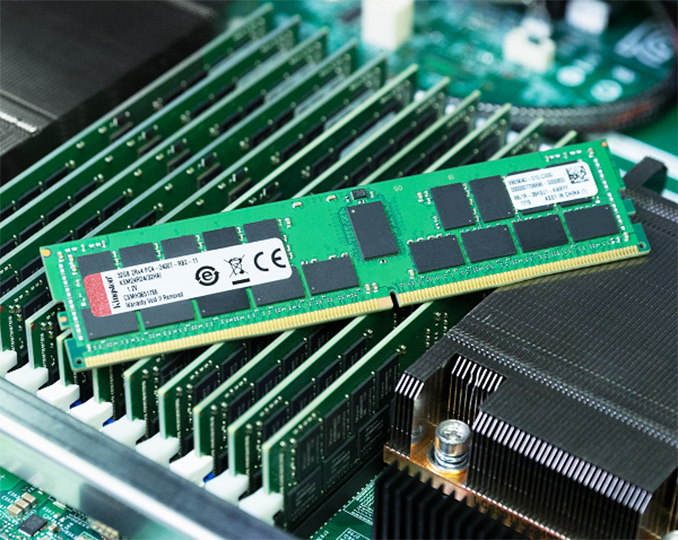 Coinciding with the launch of Intel's Xeon 'Cascade Lake-SP' platform, Kingston on Tuesday announced its new Server Premier registered DIMMs designed for the latest servers. The modules offer data transfer rates of up to 2933 MT/s and capacities of up to 32 GB.
Kingston's family of Server Premier modules for Intel's Xeon 'Cascade Lake-SP' machines includes 8 GB, 16 GB, and 32 GB DDR4-2933 registered DIMMs. The new RDIMMs feature industry-standard timings for 2933 MT/s interface speed at 1.2 Volts. The manufacturer does not disclose which DRAM chips it uses for the modules, but typically memory houses tend to use proven components for their offerings designed for servers.
Increased DDR4 interface speed from 2666 MT/s to 2933 MT/s boosts theoretical peak bandwidth by around 10%. One module provides peak bandwidth of 23.46 GB/s, but a memory subsystem featuring six channels can now offer 140.76 GB/s. Obviously, to increase interface speed, makers of memory modules had to increase latencies as well (to stay compliant with the JEDEC specification), so the real-world performance increase brought by higher transfer rates will be somewhat diminished.
Kingston's DDR4-2933 Server Premier registered DIMMs have been burn-in tested by the manufacturer and validated by Intel for its Cascade Lake-SP platform. Therefore, they can be deployed right away. Besides, Kingston's Server Premier RDIMMs feature a locked bill of materials (i.e., the manufacturer does not change components used to build the modules over time so that its customers do not have to re-validate them with their motherboards) and if their BOM has to be changed sometimes during their lifecycle, the company will notify its clients 45 – 90 days in advance. Finally, they are covered by a lifetime warranty.
Kingston will start shipments of the new DDR4-2933 Server Premier registered DIMMs in the near future.
Related Reading:
Source: Kingston