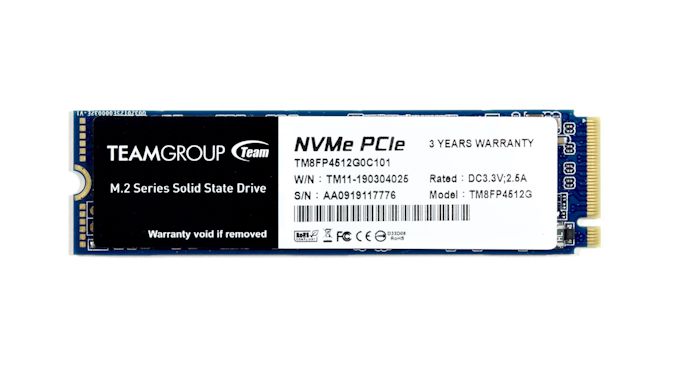 NVMe SSDs are well on their way to becoming the mainstream choice for primary storage in consumer PCs. There is a wide array of options from every brand on the market, and thanks to the past year's price drops for flash memory, these formerly high-end drives for enthusiasts have become quite enticing. This is especially the case at the lower capacities, where the price premiums over SATA SSDs are usually no more than $10-20.
Team Group's current top of the line SSD is the simply named MP34: an M.2 NVMe SSD with a PCIe 3.0 x4 interface. The MP34 uses the standard Phison E12 controller reference design with Toshiba 64L 3D TLC NAND flash memory, which is a pretty familiar combination now that we're about half way through that controller's product cycle.
Drives using this controller and NAND combination have never been the fastest on the market, but they've consistently been fast enough to satisfy enthusiasts looking to round out a high-end workstation or gaming machine. However, Phison-based SSDs usually don't command the kind of price premium that top brands like Samsung and Western Digital can charge, so the Team MP34 isn't exclusively for enthusiasts. The drive is just as suitable for everyday use in a notebook computer, where it promises a step up from SATA performance without breaking the bank or killing battery life. (Toshiba/SanDisk 64-layer 3D NAND seems to be the most power efficient option for this generation, and it's fast enough to stay competitive against 64L NAND from Intel, Micron and Samsung.)
As with many other Phison partners, this is Team Group's first opportunity to sell a true high-end NVMe SSD. Phison's first generation NVMe controller was a disappointment, and tactics like adding a fancy heatsink couldn't change the fact that it was too slow to be a serious competitor. Phison's second generation of NVMe controllers got off to a good start with the entry-level E8 (used in the Team MP32), but the high-end E12 didn't arrive until late last year.
There are many brands selling drives based on this platform, and the differences tend to be minor. Most of the Phison E12 drives we've tested or been offered for review have been 1TB models, leaving us with an incomplete picture of how that platform holds up at the lower capacities that are more affordable and more popular. We recently tested Gigabyte's Aorus RGB SSD at 256GB and 512GB, but its non-standard design with a substantial heatsink and RGB lighting mean its performance and power efficiency results aren't particularly representative of most other Phison E12 drives. The Team MP34 gives us the chance to assess the standard E12 design at a lower capacity where providing the best performance is more of a challenge.

The Team Group MP34 is also our first E12 drive to arrive with the latest 12.2 firmware from Phison. Phison's first generation NVMe controller—the PS5007-E7— hit the retail market with firmware that was functional but definitely immature. Over a span of more than a year, Phison delivered numerous updates that brought bug fixes and significant performance changes (not always for the better). The firmware for the Phison E12 was much more mature to begin with; our testing of a pre-release engineering sample showed that the platform was already prepared to compete in the high-end SSD market, so we expect more in the way of subtle refinements than big changes.
More recently however, Phison's rival Silicon Motion recently re-released their competing SM2262 controller as the SM2262EN with firmware providing a substantially different performance profile that focuses specifically on improving peak performance. So we need to keep an eye on Phison's progress to see how they respond in the short term while preparing their next generation controller ASIC, the Phison E16 that is due to bring PCIe 4.0 support to the retail market by the end of the year.
Team Group MP34 SSD Specifications
Capacity
256 GB
512 GB
1 TB
Form Factor
M.2 2280 PCIe 3 x4
Controller
Phison PS5012-E12
NAND Flash
Toshiba 64L 3D TLC
Sequential Read
2700 MB/s
3000 MB/s
3000 MB/s
Sequential Write
850 MB/s
1700 MB/s
2600 MB/s
Random Read
190k IOPS
190k IOPS
180k IOPS
Random Write
160k IOPS
160k IOPS
160k IOPS
Warranty
3 years
Write Endurance
380 TB
800 TB
1660 TB
Current Retail Price
$41.99
(16¢/GB)
$74.99
(15¢/GB)
$159.99
(16¢/GB)
Team Group's spec sheet for the MP34 lists the drive as offering fairly typical performance for high-end NVMe SSDs this generation. The random IO performance ratings are similar across all capacities (with random reads actually rated to be slightly faster for the smaller models), but sequential write speeds are highly dependent on drive capacity. Team Group hasn't announced a 2TB version and the warranty period is only three years, so the MP34 is aiming slightly below the top of the market. The write endurance ratings are still competitive with high-end drives that offer five year warranties, so it doesn't appear that Team is really cutting any corners. The shorter warranty period should be little concern if the MP34 is priced appropriately.
Team Group has opted for a relatively low overprovisioning ratio and consequently higher usable capacities. We're testing a 512GB drive, but there are also 480GB and 500GB Phison E12 drives on the market. At the 1TB capacity these differences in usable capacity don't seem to be strongly influencing performance of E12 drives, but the situation may be different at lower capacities where write performance is more limited. However, so far it looks like the higher usable capacities perform fine and any sacrifices are worth the improvement in price per GB.
The Competition
It's hard to keep track of all the Phison E12 SSDs on the market, let alone which firmware version is shipping from each brand (few Phison partners are reliable about delivering aftermarket firmware updates). The ones we've tested are the Corsair MP510 with an early 11.0 firmware, and the Silicon Power P34A80 and Gigabyte Aorus RGB with the 12.1 firmware. These older Phison E12 drives are highlighted in the graphs in this review. Beyond the Phison E12 drives, the most important competitors are Silicon Motion SM2262EN drives like the ADATA XPG SX8200 Pro and HP EX950, and flagship TLC drives from the vertically-integrated major manufacturers: the Samsung 970 EVO Plus and WD Black SN750. We don't have 512GB-class samples for many of those drives, so this review includes a mix of results from current-generation 1TB class drives and year-old 480-512GB drives.
AnandTech 2018 Consumer SSD Testbed
CPU
Intel Xeon E3 1240 v5
Motherboard
ASRock Fatal1ty E3V5 Performance Gaming/OC
Chipset
Intel C232
Memory
4x 8GB G.SKILL Ripjaws DDR4-2400 CL15
Graphics
AMD Radeon HD 5450, 1920x1200@60Hz
Software
Windows 10 x64, version 1709
Linux kernel version 4.14, fio version 3.6
Spectre/Meltdown microcode and OS patches current as of May 2018