Power Supply Quality
As part of our testing, we also check output parameters are within specifications, as well as voltage ripple and line noise.
Main Output
Load (Watts)
302.18 W
754.28 W
1127.44 W
1500.41 W
Load (Percent)
20.15%
50.29%
75.16%
100.03%
Amperes
Volts
Amperes
Volts
Amperes
Volts
Amperes
Volts
3.3 V
2.34
3.39
5.85
3.38
8.77
3.36
11.69
3.35
5 V
2.34
5.05
5.85
5.04
8.77
5.01
11.69
4.99
12 V
23.38
12.08
58.46
12.06
87.69
12.02
116.91
12
Line
Regulation
(20% to 100% load)
Voltage Ripple (mV)
20% Load
50% Load
75% Load
100% Load
CL1
12V
CL2
3.3V + 5V
3.3V
1.1%
8
10
16
16
10
20
5V
1.25%
10
12
16
18
14
20
12V
0.6%
10
16
18
30
36
26
The electrical performance of the Dark Power Pro 12 is exceptional, and is exactly what we'd expect from a flagship product such as this. Our instruments recorded a maximum ripple of 30 mV on the combined 12V line - a mere quarter of the 120 mV recommended design limit on a unit that outputs 1.5 kW. The filtering on the 3.3V and 5V lines is very good but not as impressive, with 16 mV and 18 mV on the 3.3V and 5V lines respectively. Voltage regulation is exceptional on the 12V line, holding at 0.6% across the entire nominal load range. The 3.3V and 5V lines are less strictly regulated, at about 1.2% according to our readings.
Conclusion
Be Quiet! obviously designed and marketed the Dark Power Pro 12 as a prime example of their brand name – a halo product, a testament of the company's ability to design and produce top-tier units. And while the company isn't looking to name competitors, Be Quiet! is clearly taking a shot at Corsair and their fully digital AX1600i, a design that many (ourselves included) consider to be the best consumer PSU ever made. To go against the AX1600i is a very ambitious and respectable move, especially considering that only a handful of companies have ever tried.
As a result, the 80Plus Titanium certified Dark Power Pro 12 1500W PSU is very impressive on paper. Yet our closer inspection and testing revealed that it is not quite on par with the fully digital AX1600i, both technologically and otherwise.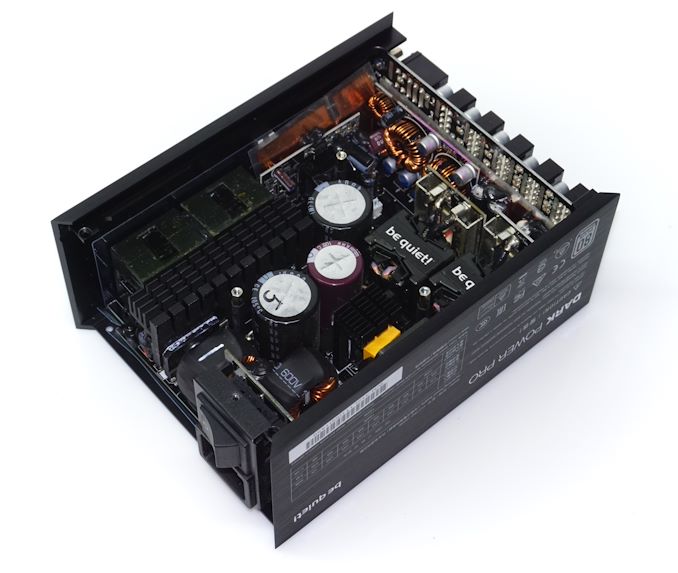 The electrical performance of the Dark Power Pro 12 is excellent. Yet it still feels inadequate in some ways. We would have been very impressed by the power quality of the Dark Power Pro 12 were it was a middle to high tier product, but as a flagship product, there's no reason to expect anything but the best from such a PSU. The filtering of the voltage lines is excellent and they are very well regulated, especially when taking the very high 1500 Watt power output into account, but it still is not on par with the ludicrous performance figures that a fully digital platform can deliver. The digital-analog hybrid platform from CWT also has other electrical performance limitations, which are apparent on the power quality of the analogically controlled minor lines and the inability to reach very high-efficiency figures when powered from a 230 VAC source.
Still, it is worthwhile to point out that this platform is the only high power output platform currently available in the North American and European markets that offers multiple virtual 12V rails. Whether the presence of multiple rails is a good thing or not is a topic for debate – multiple rails are safer, as the protection circuitry will not allow a single cable or connector to draw the entirely of the unit's power output and be damaged. But, on the other hand, balancing the load between the rails is necessary. To that end, we would strongly suggest users keep the power supply in its default mode and only switch overclocking mode on (and let the Dark Power Pro 12 monitor its 12V output as a single power rail) if they face trouble powering a very power-hungry device from a single connector.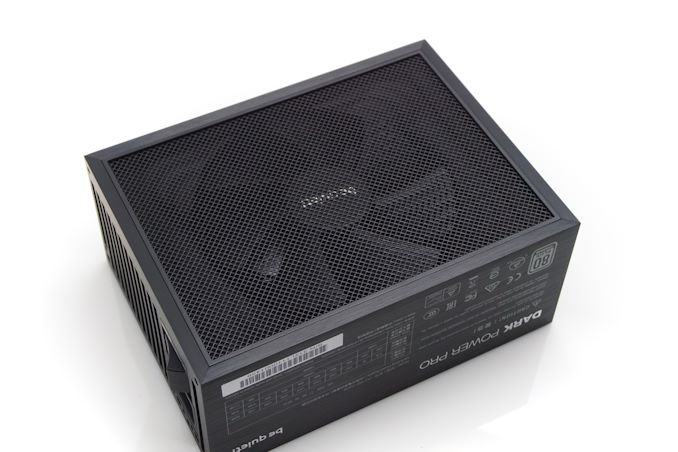 The thermal and acoustics performance of the Dark Power Pro 12 are both better than we initially expected from such a powerful unit, even from one bearing an 80Plus Titanium efficiency certification. Under normal operating circumstances, the Dark Power Pro 12 should remain almost dead silent, as it takes a very high load for the thermal control circuitry to even bother speeding up the cooling fan. Otherwise, if the unit finds itself operating in an adverse environment and/or is very heavily loaded, it will protect itself by sacrificing acoustics over reliability.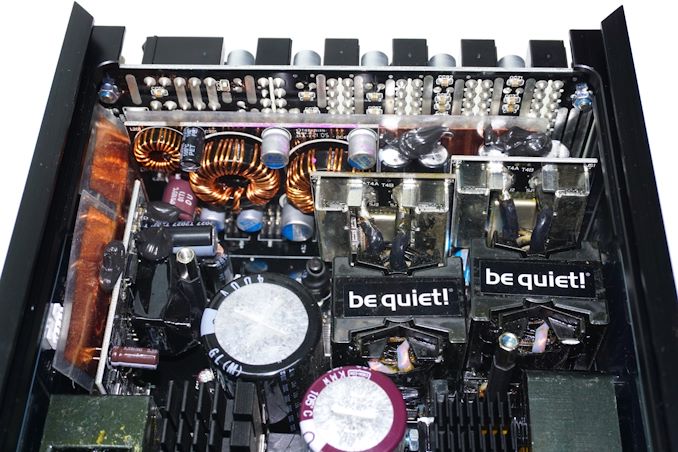 Finally, it's clear that Be Quiet! has invested a significant amount of effort in order to make the Dark Power Pro 12 aesthetically unique – a PSU that stands out from the rest at first sight but without compromising the company's profile of elegance and subtleness. The designers developed a unique layered chassis with a brushed metallic exterior shell and an equally unique metal mesh fan cover, which makes for a product that radiates quality without being extravagant. And this high level of design quality for the Dark Power Pro 12 is not just at a superficial level; Be Quiet has used top-quality components on the inside as well, down to the least important capacitor. Fittingly, Be Quiet! backs the Dark Power Pro 12 with a 10-year manufacturer warranty.
The Dark Power Pro 12 1500W unit is a very powerful PSU, capable of driving almost anything, but also giving it a very limited market potential, especially in the current PC market where video cards are scarce and extremely expensive. It also has to take on the venerable Corsair AX1600i, the performance reference of any top-tier PSU. Only a handful of companies have even dared to try and take on the Flextronics-based AX1600i, which underscores the value in (and confidence of) Be Quiet!'s engineers for even trying. Still, the digital-analog hybrid platform from CWT cannot outperform the AX1600i in terms of performance, nor make Flextronics engineers feel uneasy at all.
The overall performance of the Dark Power Pro 12 is great, but it's just not enough to steal the crown of the best consumer PC PSU ever made. Nonetheless, Be Quiet! has a massive advantage when it comes to overall value – the Dark Power Pro 12 1500W currently retails for $450, which is half the price of Corsair's AX1600i. So for builders who do need a 1500W+ PSU but do not care about having the best possible performance, the Dark Power Pro 12 shines in its own way as a far more economical choice.