Introduction
It has been a while since our last
Small Form Factor (SFF) article
, though we have taken a look at
several
micro ATX
offerings
that target a similar market. While there have been numerous socket 775 units launched during the past year or more - including the Biostar 350G and the Shuttle SD31P with Pentium D support - the fact of the matter is that socket 775 and SFF make a mismatched couple. Having looked at quite a few of the socket 939 offerings, the lower temperatures, lower noise levels, and higher performance that Athlon X2 offers relative to Pentium D (and Athlon 64 relative to Pentium 4) simply make it the better choice for anyone interested in building a smaller computer. The best socket 939 SFFs -- the Biostar 330P and the Shuttle SN25P (or perhaps the SN26P if you want SLI support) -- are also the best SFF systems overall, so until now those have been our overwhelming recommendations.
Of course, there are other interesting markets in the SFF arena, for example HTPC systems like the
Shuttle M1000
. Some people might also appreciate lower power and noise levels, in which case AOpen and Shuttle both have Pentium M platforms available. Unfortunately, we have yet to see any Core Duo compatible SFF units in our labs. That should hopefully change once Core 2 Duo launches, but so far the majority of the products we have seen have been targeting performance more than other areas, or else they drop nearly all expansion options and look purely at making a small system, like the
AOpen MiniPC
.
Not everyone wants a small computer anyway, so if you're interested in a high-end multi-GPU configuration with a discrete sound card, one or two TV tuners, and multiple hard drives you're still going to have to stick with a standard ATX case and motherboard. However, as we have said in the past, the vast majority of people should be able to meet all of their computing requirements with a SFF system; the question is whether or not you're willing to pay little bit more money for a more attractive case while sacrificing future expansion options.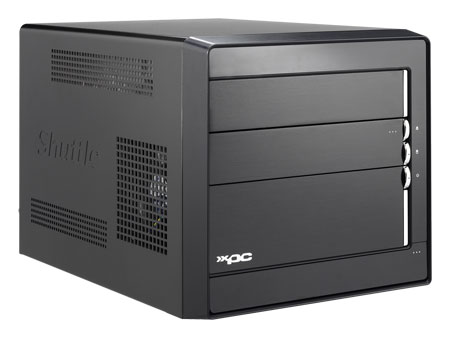 With the launch of AMD's new AM2 platform, it's time for a whole new series of supporting products. We've already looked at the
platform performance
, and we're
working
on
motherboard
reviews
. Waiting in the wings is Intel's new
Core 2 Duo
platform, but as that is not yet available we can only provide previews of performance. For now, AM2 is the new kid on the block, and it will also remain the platform of choice for AMD enthusiasts for the foreseeable future. Shuttle has always been one of the first companies to come out with a SFF for a new platform, and AM2 is no exception. Only a few weeks after the AM2 processors and motherboards first became available, Shuttle announced their new
SN27P2
barebones unit. The SN27P2 includes several firsts for Shuttle, but it also aims to continue their trend of offering high-quality, attractive, small computer systems.
Given that this is the only currently available AM2 SFF system, the SN27P2 is in something of a unique position. If you want a SFF right now, and you want to go with an AMD configuration, your choices are either this new Shuttle system or else you can purchase a socket 939 system with the understanding that the platform is being phased out. As we've shown in our other AM2 coverage, there really isn't a huge benefit to upgrading to the new platform right now. Basically, you get performance very similar to socket 939, but you use DDR2 memory instead of DDR memory. However, if you are about to purchase a new AMD system, then we would recommend the new platform, as all other things being equal it does have more longevity. The Small Form Factor market is a bit different, though, so let's find out if new SFF buyers should stick with the tried-and-true platform, or if they should go with the next big thing.