While we're still waiting patiently for our Galaxy Nexus to arrive so we can begin digging into Android 4.0 goodness, Verizon customers in the US are also patiently for the date when they too can snag an LTE-enabled Galaxy Nexus. While the date is still unknown, Ytram of androidforums was able to snag the XML manifest from Verizon and locate high resolution images of the LTE-enabled Galaxy Nexus.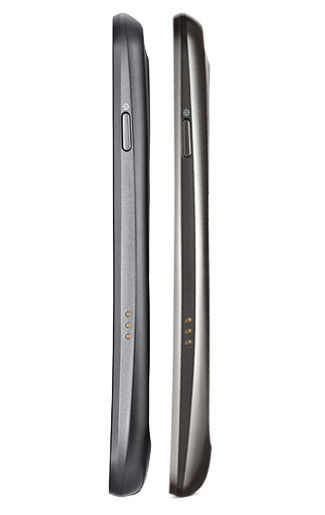 Left: Verizon 4G LTE Galaxy Nexus, Right: HSPA+ Galaxy Nexus
In addition to sporting a slightly different gunmetal grey color scheme, the Verizon Galaxy Nexus also is 0.53 mm thicker, weighs 15 grams more, and also includes a 100 mAh bigger battery. This shouldn't come as much of a surprise, considering the Nexus S and Nexus S 4G (with WiMAX on Sprint) also had a size and weight difference. The larger package no doubt accommodates the extra necessary 4G LTE antenna traces and baseband. This is also the first time we've seen a carrier-branded Nexus, previously all Nexus phones carried no carrier-related silkscreening of any kind.
Galaxy Nexus Comparison
HSPA+ Galaxy Nexus
LTE/Verizon Galaxy Nexus
Height
135.5 mm
135.5 mm
Width
67.94 mm
67.94 mm
Depth
8.94 mm
9.47 mm
Weight
135 g
150 g
Network Support
HSPA+/3G/GERAN 850/900/1700/1900/2100 MHz
700 MHz (LTE), 800/1900 (1x/EvDO Rev.A/0)
Battery Size
1750 mAh
1850 mAh
SoC
1.2 GHz TI OMAP 4460
RAM/NAND
1 GB / 16 GB
1 GB / 32 GB
I've gone ahead and made a gallery with the 4G LTE Galaxy Nexus images pulled from Verizon's website. In the meantime, shoppers in the US not willing to import a Galaxy Nexus of their own from abroad will have to sit tight for some future availability announcement.
Source: Androidforums, Google Galaxy Nexus Page