In Win GreenMe 650W
In Win sent us their newest model GreenMe rated at 650W. Billed as an eco-friendly alternative to the usual PSUs, In Win boasts about the reduced energy costs associated with the high efficiency design. Given the eco emphasis, we'll examine how the PSU does in those areas along with the usual tests.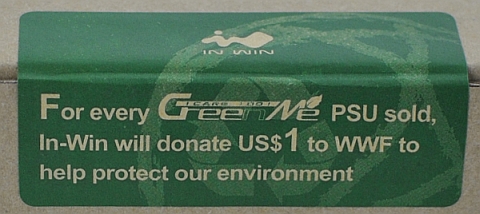 In Win uses an environmental friendly packaging composed of recycled materials. There's also a sticker stating that the WWF (World Wide Fund for Nature) gets one dollar for every GreenMe sold. However, there is some debate over how WWF is funded, with allegations that they have questionable industry ties. Regardless of whether that's true or not, we do like the idea of helping environmental associations.
The real question of course is how environmentally friends the GreenMe PSU line is in practice. Is 80 Plus Bronzer efficient enough for energy conservationists? And where are the lower power models, as a "green PC" probably doesn't need 650W? We'll leave the debate on those areas up to the reader; for now, let's see what you get with the GreenMe and how it performs.