Alongside updated Ivy Bridge MacBook Air and MacBook Pro models, Apple is introducing a third member of its notebook lineup. This is the next generation MacBook Pro with Retina Display. It's priced at $2199 (8GB memory, 256GB SSD) and available starting today.
Internally the next-gen MacBook Pro features a 2.3GHz quad-core Core i7 CPU (likely Intel's i7-3615QM, turbo boost up to 3.3GHz, 6MB L3 cache). NVIDIA's Kepler based GeForce GT 650M comes standard with 1GB of memory. There's no 802.11ac support, the next-gen MacBook Pro features 3x3:3 802.11n and Bluetooth 4.0.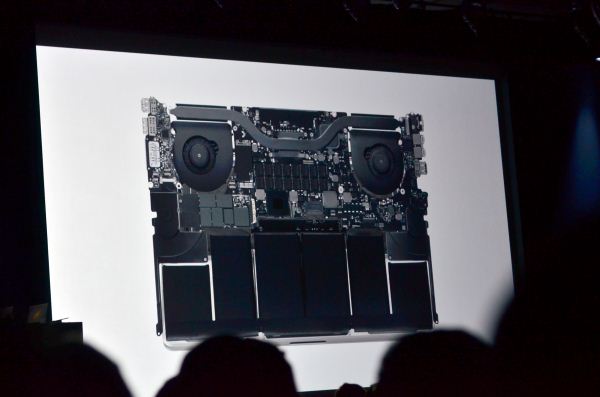 The new unibody shell is just 0.71-inches thick and weighs 4.46-lbs. The big feature of the next-gen MacBook Pro is its Retina Display. Available in one size configuration at 15.4-inches, the new panel is a 2880 x 1800 IPS model. Apple is boasting up to a 75% reduction in glare and reflections. The display is now integrated into the unibody, allowing Apple to remove its cover glass.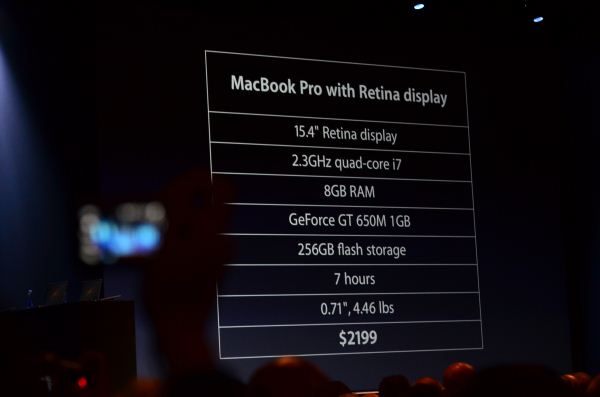 The MacBook Pro with Retina Display ships with OS X Lion but features updated apps (Mail, iPhoto, iMovie, Safari) for proper DPI scaling to deal with the higher resolution display. Final Cut Pro and Aperture will also receive updates for Retina Display support.
Apps have to be updated to take advantage of the display, however pixel doubling is supported for scaling those that haven't been updated.