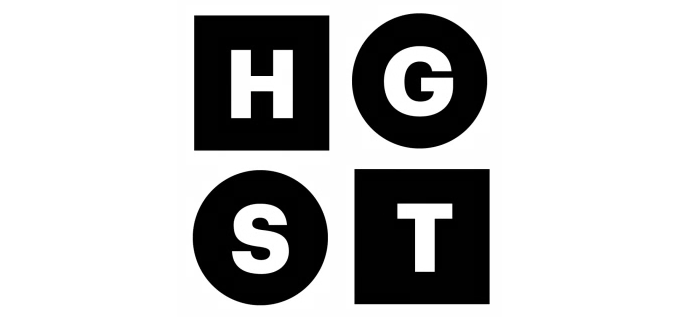 It seems that NAND flash memory just isn't fast enough to show off the full performance of the latest datacenter networking equipment from Mellanox. They teamed up with HGST at Flash Memory Summit to demonstrate a Storage Area Network (SAN) setup that used Phase Change Memory to attain speeds that are well out of reach of any flash-based storage system.
Last year at FMS, HGST showed a PCIe card with 2GB of Micron's Phase Change Memory (PCM). That drive used a custom protocol to achieve lower latency than possible with NVMe: it could complete a 512-byte read in about 1-1.5µs, and delivered about 3M IOPS for queued reads. HGST hasn't said how the PCM device in this year's demo differs, if at all. Instead, they're exploring what kind of performance is possible when accessing the storage remotely. Their demo has latency of less than 2µs for 512-byte reads and throughput of 3.5GB/s using Remote Direct Memory Access (RDMA) over Mellanox InfiniBand equipment. By comparison, NAND flash reads take tens of microseconds without counting any protocol overhead.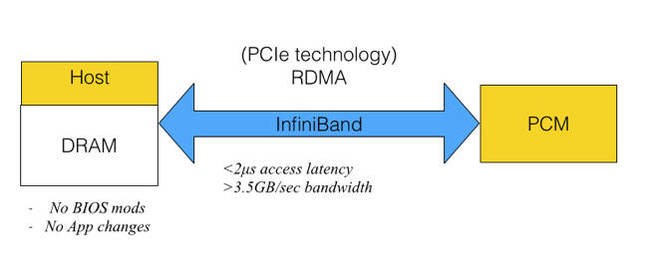 This presentation from February 2014 provides a great summary of where HGST is going with this work. It's been hard to tell which non-volatile memory technology is going to replace NAND flash. Just a few weeks ago Intel and Micron announced their 3D XPoint memory, immediately taking the place as one of the most viable alternatives to NAND flash without even officially saying what kind of memory cell it uses. Rather than place a bet on which new memory technology would pan out, HGST is trying to ensure that they're ready to exploit the winner's advantages over NAND flash.
None of the major contenders are suitable for directly replacing DRAM, either due to to limited endurance (even if it is much higher than flash), poor write performance, or vastly insufficient capacity. At the same time, ST-MRAM, CBRAM, PCM, and others are all much faster than NAND flash and none of the current interfaces other than a DRAM interface can keep pace. HGST chose to develop a custom protocol over standard PCIe as more practical than trying to make a PCM SSD that works as a DIMM connected to existing memory controllers.
Last year's demo showed that they were ready to deliver better-than-flash performance as soon as the new memory technology becomes economical. This year's demo shows that they can retain most of that performance while putting their custom technology behind an industry-standard RDMA interface to create an immediately deployable solution, and in principle it can all work just as well for 3D XPoint memory as for Phase Change Memory.