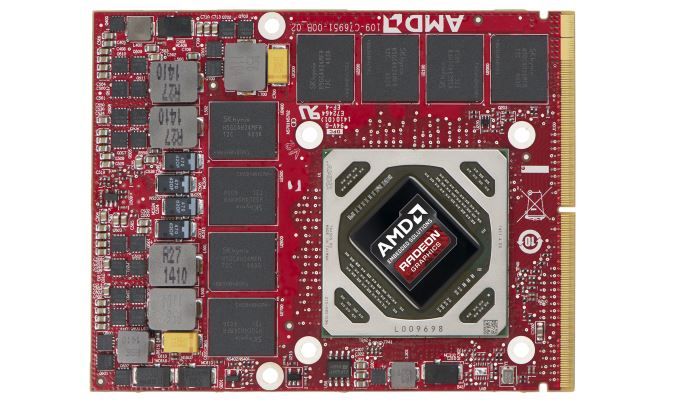 Given the long-term nature of AMD's embedded graphics business, updates to the Embedded Radeon lineup of discrete video cards are fewer and farther between for AMD. But in turn these updates are more substantial for AMD. To that end, this week AMD is announcing the release of a trio of new Embedded Radeon discrete video cards, giving the entire Embedded Radeon lineup its first complete overhaul since 2011.
These products – essentially variants of AMD's Mobile Radeon parts – are aimed towards non-traditional use cases where vendors need a mix of budget and powerful video cards for what are essentially sealed systems. Among the traditional use cases for these products have been digital signage, image processing/medical imaging, thin clients, and electronic (casino) gaming. The latter in particular is a particularly lucrative market for higher performance GPUs, as casinos increasingly invest in attractive, flashy games, and are competing with similar gaming experiences on mobile devices, which similarly are getting increasingly powerful.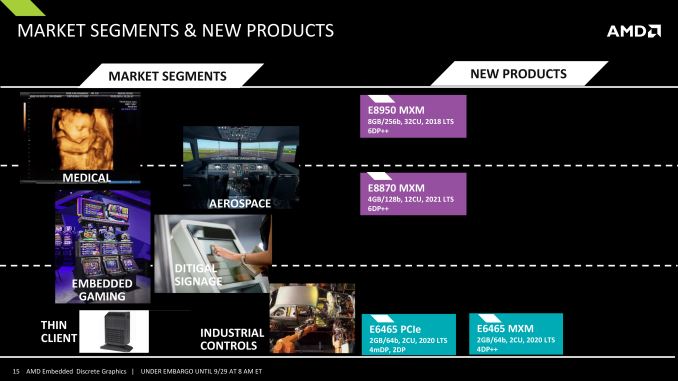 The allure of the Embedded Radeon lineup for vendors, along with having hardware specifically tailored for this market – including features such as natively supported timing customizations – is the long term sales period AMD offers for their embedded products. Embedded Radeon parts are sold for 3 to 5 years, making them suitable for use in products with long production runs where manufacturers need to be able to source new components for an extended period of time.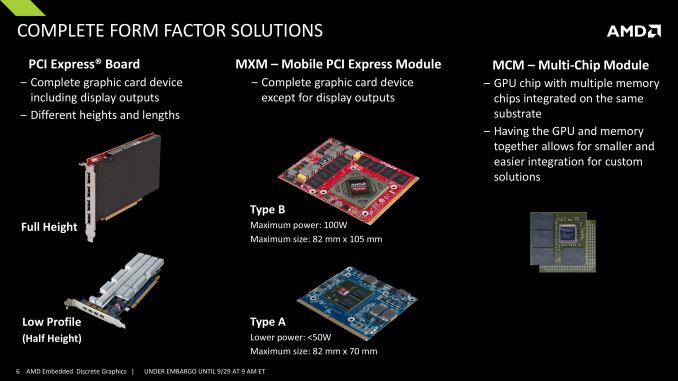 Altogether AMD's three new Embedded Radeon products are intended to cover the full range of the market, from high performance down to highly power efficient parts. Furthermore depending on the specific part, AMD offers hardware in three different form factors: PCI-Express (standard and half-height), MXM, and the company's proprietary high-density soldered MCM form factor.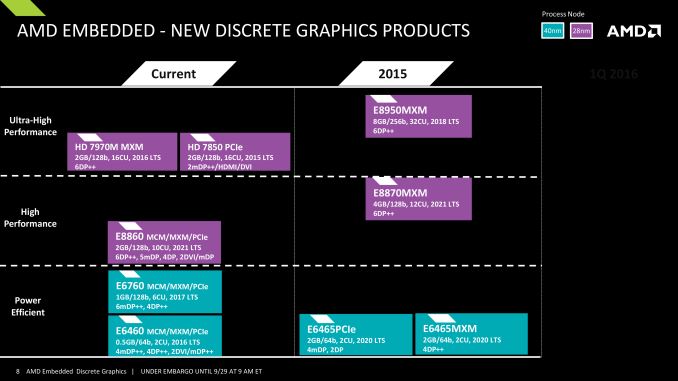 AMD Embedded Radeon Discrete Video Cards
Radeon E8950
Radeon E8870
Radeon E6465
Stream Processors
2048
768
160
GPU Clock
750MHz
1000MHz
600MHz
Memory Clock
6GHz GDDR5
6GHz GDDR5
3.2GHz GDDR5
Memory Bus Width
256-bit
128-bit
64-bit
VRAM
8GB
4GB
2GB
Displays
6
6
4
TDP
95W
75W
20W
GPU
Tonga
Bonaire
Caicos
Architecture
GCN 1.2
GCN 1.1
Northern Islands
Starting from the top, the first new Embedded Radeon is the E8950MXM. As alluded to in the name, this product is only available as an MXM card, and is based on AMD's Tonga GPU. This is a full shader enabled Tonga part with all 2048 SPs enabled and paired with 8GB of GDDR5 (using 8Gb chips), making it roughly analogous to the Radeon R9 M295X. In terms of power consumption the E8950MXM is rated for a 95W TDP.
As the fastest of the Embedded Radeons AMD is pitching this one as their ultra-high performance model, targeting a peak throughput of 3 TFLOPS. Unfortunately AMD's specs are somewhat at odds with each other, so it's not clear what this part is clocked at. AMD cites a 1000MHz GPU clockspeed, however the 3 TFLOPS peak number implies 750MHz. Given the 95W TDP, we're going to assume for the moment that it's the latter.
Finally as far as feature go, since this is a Tonga part it gets Tonga's full feature set, including 4K H.264 decode, and like most Graphics Core Next products, the ability to drive up to 6 displays. Typical for the highest performance Embedded Radeon products, this is the only member of the updated Embedded Radeon family to ship with a 3 year sales window as opposed to 5 years on the other products.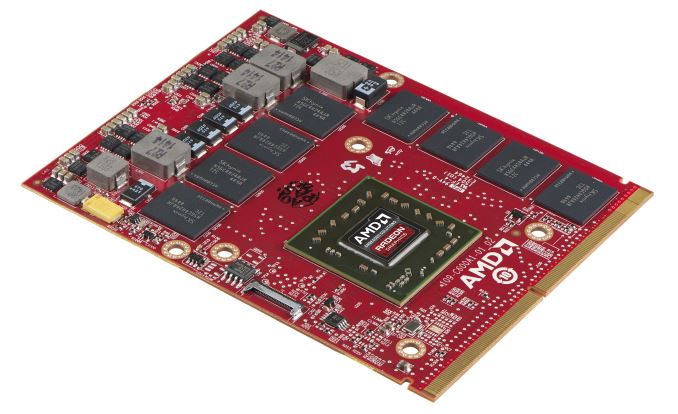 Moving on we have the E8870, AMD's high-performance model. Based on what appears to be a Bonaire GPU in product literature, this is a lower power video card targeting a lower performance segment. Here AMD is aiming for 1.5 TFLOPS peak, with the partially disabled Bonaire GPU running at 1000MHz and shipping with 768 SPs enabled. The E8870 has a lower 75W TDP and is available in both a MXM card and a full-height PCIe card, with both models shipping with 4GB of VRAM. Both models can also be used to drive up to 6 displays, although for the PCIe card there are only 4 physical outputs owing to the space required for the full size DisplayPorts.
Finally, the last of the new Embedded Radeons is essentially a carry-over from AMD's earlier models, and that's the E6465. Based on the company's much older pre-GCN 40nm Caicos GPU, the E6465 is specifically targeted at budget and very low power markets with its 20W TDP. AMD offers the E6465 in all three form factors: an MXM card, a high-height PCIe card with 4 mini-DisplayPorts, and finally the soldered MCM package.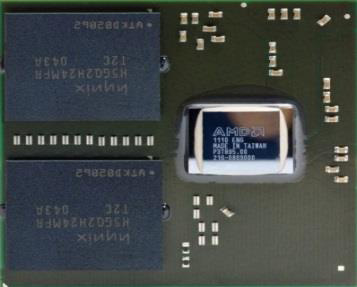 As the E6465 is derived from the previous E6460, the principle purpose in updating it has been to give it a significant upgrade in memory capacity and to reset the clock on availability. The E6465 makes the jump from 512MB to 2GB of VRAM, and meanwhile it gets a fresh 5 year availability cycle that will see it sold through 2020, almost a decade after the Caicos GPU first hit the market.