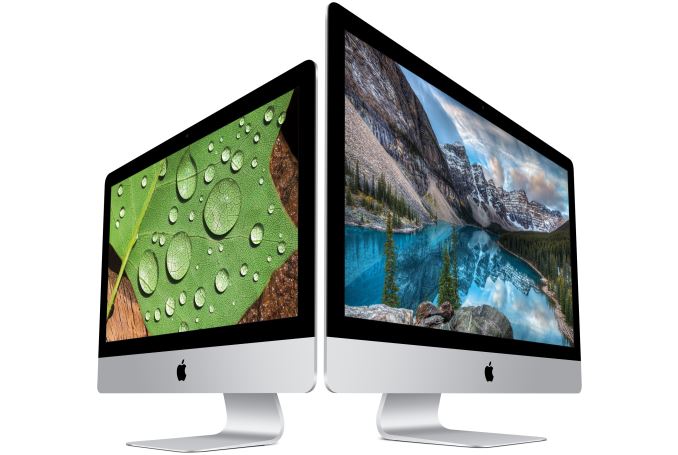 Almost exactly one year ago Apple launched their first ever iMac with Retina display at their October 2014 event. The launch had a number of surprises, with one of the biggest being the fact that it would sell for $2499 despite its 5K display matching the resolution of Dell's UP2715K which had an intended launch price of $2999. While Apple doesn't appear to be planning any more events for this year, they have decided to ship an upgrade to their existing 27" iMac with 5K Retina display, and have also introduced a brand new 21.5" iMac with Retina 4K Display. You can view the specs for the base models of Apple's new 2015 iMacs in the chart below.
Apple iMac With Retina Display 2015
Model
21.5" Base
27" Base
CPU
3.3GHz Core i5-5675C/R
(Broadwell)
3.5GHz Core i5-6500
(Skylake)
GPU
Intel Iris Pro 6200
AMD Radeon R9 M380 (2GB)
Display
21.5" 4096 x 2304 IPS LCD
27" 5120 x 2880 IPS LCD
Memory
8GB 1867MHz DDR3 (LPDDR3 in 21.5")
Storage
1TB 5400RPM HDD
1TB 7200RPM HDD
Price
$1499
$1799
Just briefly touching on the 27" iMac, it's mainly an upgrade to the internal hardware from its original Intel Haswell platform. The CPU in the base model is now a 3.5GHz quad core i5-6500 which is an Intel Skylake part, and the upgraded options include a 3.3GHz i5-6600 and what is seemingly the 4.0GHz i7-6700K which would typically be an unlocked part, although I wouldn't expect any overclocking to be accessible. The GPU is now AMD's R9 M380. The GPUs also move to AMDs M300 series, with an M380 in the base model, an M390 in the mid tier, and an M390X in the high end model, all with 2GB of GDDR5 memory. There's also the M395X with 4GB of GDDR5 memory available as a BTO option.
The 21.5" iMac is the most interesting of the two new devices purely due to it being a brand new machine. Apple calls it the iMac with 4K Retina display, and it means that there are now Retina display options for both display sizes of the iMac. Speaking of the display, it's a 21.5" 4096 x 2304 IPS panel, which is higher than the 3840 x 2160 UHD resolution shipping on most "4K" displays, and it has enough horizontal and vertical resolution to natively display actual DCI 4K content.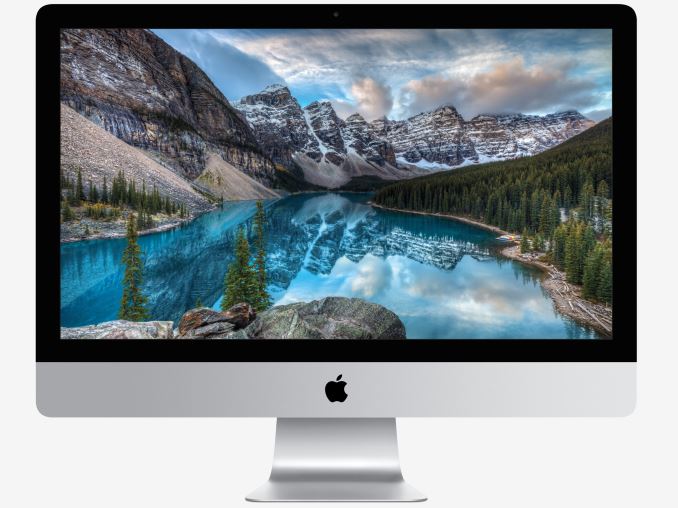 In addition to the 21.5" model's new HiDPI display, both models of the iMac receive a boost to their color gamuts. Apple is now claiming support for the DCI-P3 gamut which is used in digital projection movie theaters, and this has been achieved by moving from a WLED backlight array to something similar to GB-r LEDs in order to increase the range of spectral emissions. What will be interesting to see is if Apple allows users to revert to the sRGB color space, which would require the inclusion of a 3D LUT that could also be used for more accurate self-calibration than the past.
I do question the choice of DCI-P3 over Adobe RGB though. Apple claims that most cameras can capture a wider color range than sRGB, which is true, but in my experience they'll usually only offer Adobe RGB as the other option. The DCI-P3 gamut is more similar to Adobe RGB than sRGB is, but it's definitely not the same and so there will be some error there when working in Adobe RGB without the correct gamut on the display. That being said, the fact that both displays can natively display DCI 4K content means they could theoretically be used for video editing, but I question the viability of mastering films for cinema projection with the processing power available in an iMac.
Beyond the display, the 21.5" iMac with 4K Retina display seems to stick with Intel's Broadwell platform rather than Skylake, as Apple needs to ship a part with Iris Pro graphics in order to drive the display. The CPU used is the 3.3GHz i5-5675C/R, with it being unclear whether it's the C or the R SKU which would mean a socketed or a BGA CPU respectively. I doubt many people would be adventurous enough to open up the chassis and replace the CPU even if it was possible anyway.
Apple has also brought down the cost of the Fusion Drive upgrade, but it comes with a sacrifice. The 1TB Fusion Drive now only has a 24GB flash memory segment, while it was previously 128GB. Both the 2TB and 3TB Fusion Drive options still come with 128GB of flash storage. While the 1TB Fusion Drive may still be worth it on the 21.5" iMac purely due to how slow 5400RPM HDDs are, it's hard to stomach paying $100 for 24GB of NAND, and I would definitely just stick with the standard HDD if I were buying the base model 27" iMac.
Both new Retina iMacs are available for purchase on the Apple Online Store, with shipping times as early as one business day. BTO configurations will obviously take longer depending on which customizations are chosen. The 21.5" iMac with 4K Retina display starts at $1499. The 27" iMac with 5K Retina Display starts at $1799, with the 3.2GHz R9 390M + 1TB Fusion Drive model at $1999 and the high end 3.3GHz i5, R9 M395 + 2TB Fusion Drive model at $2299.