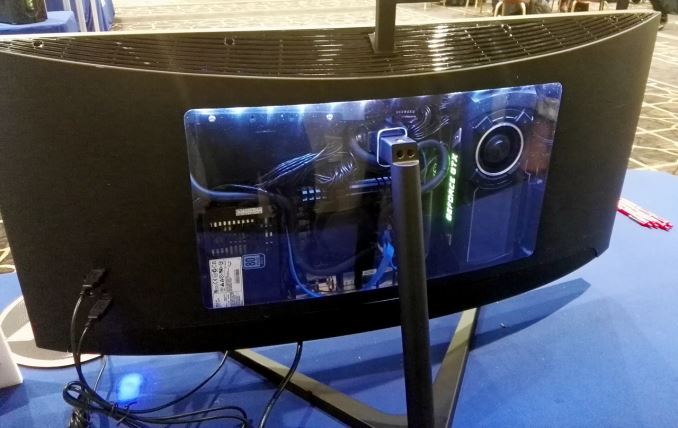 One of the notable elements of CES this year has been the march of the 34-inch 21:9 3440x1440 all-in-one PC. An all-in-one is what it says on the tin: the PC is for all intents and purposes attached to the back of the monitor, either as a separate box screwed in to the VESA mount or a special chassis developed specifically to have both monitor and PC in one. Several companies showed off their 34-inch AIO builds (there seems to be one single ODM supplying the chassis and panel called Loop to all of them), and I had some time with the one at GIGABYTE's booth.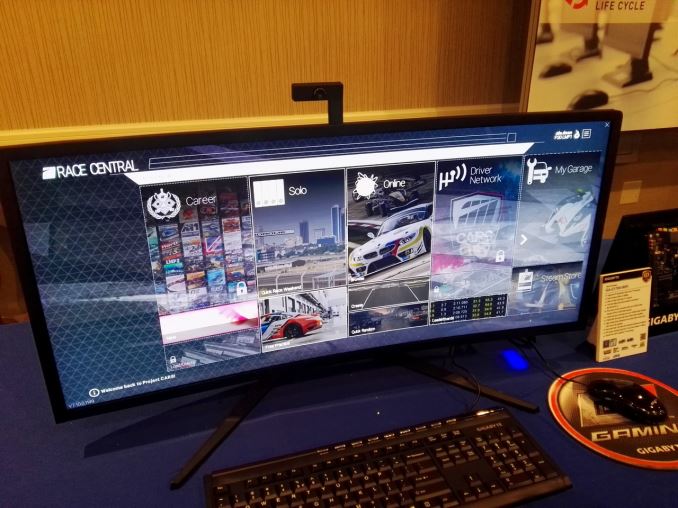 We were told this was a quick and dirty run of something that might be built, as due to time contraints the actual product path hasn't been planned yet, but the hardware is all PC components – a 600W SFX power supply, a mini-ITX motherboard (not thin mini-ITX) with a Skylake processor, liquid cooling, DRAM, and a full sized GPU in there for good measure. In this case we were told that this unit had the Z170N-WiFi motherboard, a Skylake i7, 16GB of DDR4-2400 and a GIGABYTE branded GTX Titan X inside.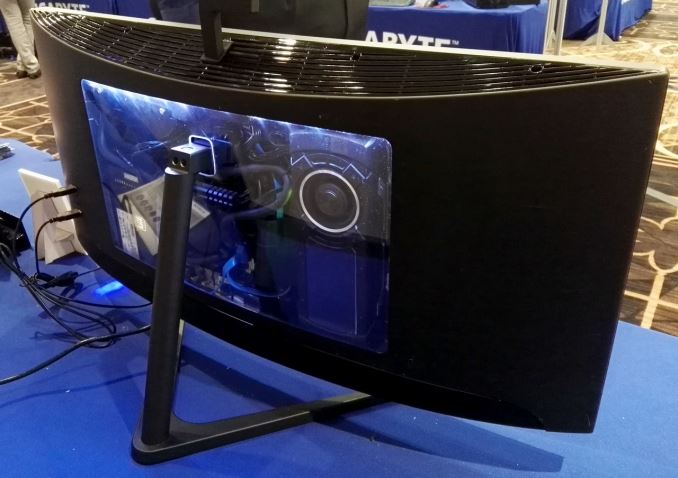 That is a lot of hardware in a small space, and it shows – this transparent panel does not do it justice about how much wiring is being routed everywhere. It also doesn't show the heat coming off the top of the device, especially around the GPU, and needs a thermal camera. Not too hot to touch, but it would certainly keep the room warm in winter.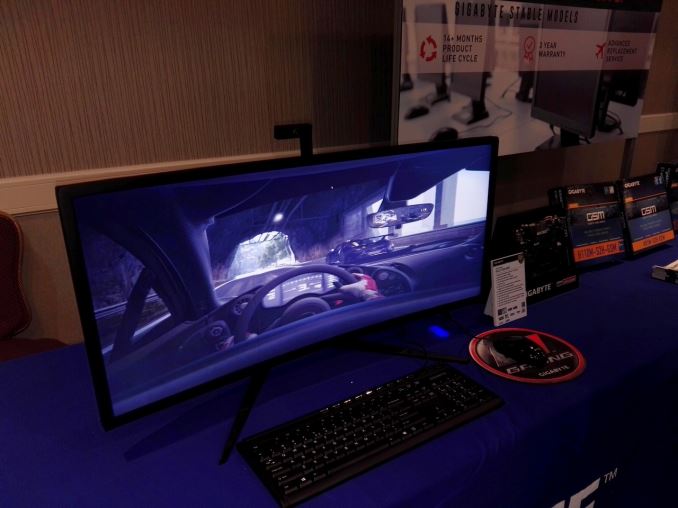 Something clicked in my mind while having a go that we have come a long way. I remember back even in 2004 going to local LAN events with a big CRT monitor, a full sized gaming tower running the latest Athlon X2 processor and X1900XTX combo, and then complaining that people forgot to update Steam and we didn't have an onsite Ethernet connection, requiring one-by-one people take their rigs to the house down the road with a connection. Back then we had a massive setup with cables going everywhere. Now we can arguably get to that point, and have a great gaming experience on the latest hardware, by having just one cable into the unit and using a wireless keyboard/mouse. One cable. It's the future.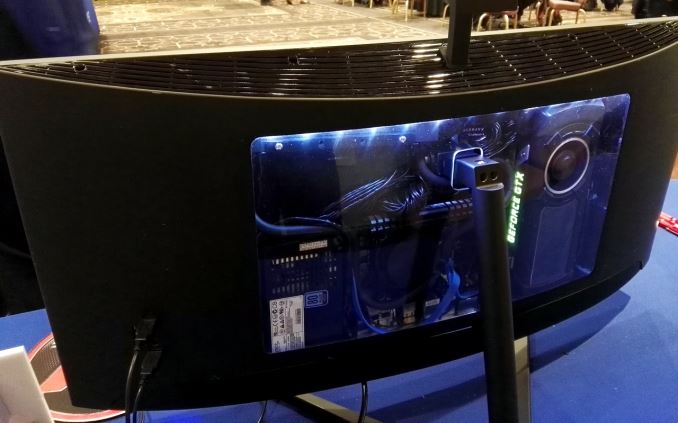 We spoke to GIGABYTE, and based on the timing they had not sorted out what configurations would come to market, or if people could configure, or if they would be sold barebones for modders to play with. I will say that the unit was so beta that when I picked the system up a couple of inches to feel the weight and then set it back down, a nice small black line appeared on the panel. Oops. Despite due care and attention, I broke something. I think it was fixed before I left the booth though.
If we consider a 34-inch 21:9 panel at 3440x1440 currently selling around $600-800, then add in a system powerful enough to run that at 60 FPS for most games (i5-6500, GTX 980 Ti, 256GB SSD, closed loop cooler), then we should expect the $2000 mark pretty easily if the OEMs like GIGABYTE are going to add special functionality with software and everything else. I've put my name in for a review unit, and I promise I'll try not to break this one.