Inside the Drives & Spare Area
The EVO is offered in a single form factor - 2.5" at a 7mm thickness. There are three torx (T5) screws that hold the chassis together, removing them gets you a look at the EVO's very simple internals. Surprisingly enough there's no thermal pad between Samsung's MEX controller and the chassis.
Samsung, like Intel, does a great job of reducing the number of screws and simplifying the assembly of its drives. I would prefer if Samsung didn't insist on using torx screws to hold the chassis together but I'm sure it does have some impact on reducing returns. There's also growing concern of counterfit SSDs which I guess screw choice could somewhat address.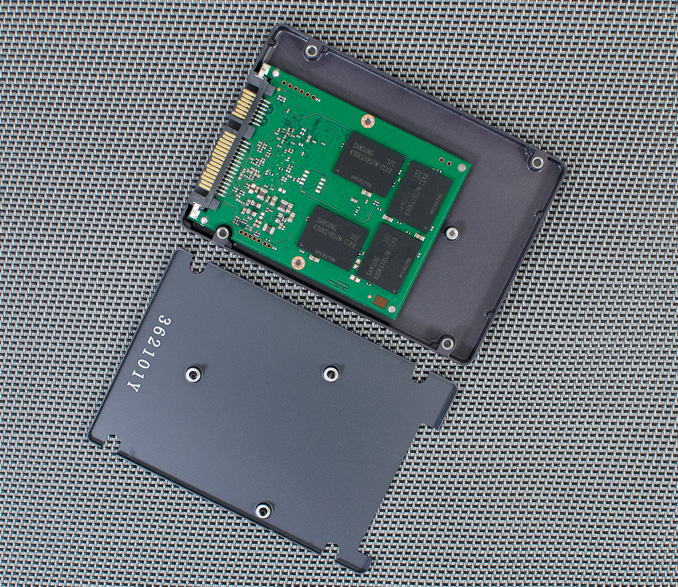 There are two PCB sizes used in the EVO lineup, neither of which occupies the full volume of the 2.5"/7mm chassis. The 120 and 250GB drives use the smallest PCB, while the other drives use the larger layout. The larger PCB has room for 8 NAND packages, while the half length PCB can accommodate two. Each of the NAND packages can hold up to 8 x 128Gbit 19nm TLC die.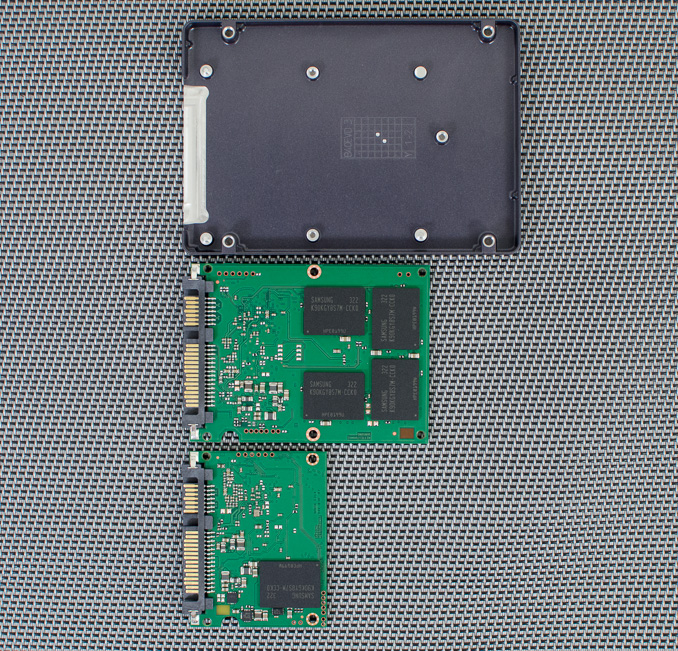 To deal with the realities of TLC, Samsung sets aside more of the drive for use as spare area on the EVO than it does on its MLC Pro line. Due to TurboWrite however, the percentage is actually a bit less than it was on last year's 840.
Samsung SSD 840 EVO Memory
Advertised Capacity
120GB
250GB
500GB
750GB
1TB
DRAM Size
256MB LPDDR2-1066
512MB LPDDR2-1066
512MB LPDDR2-1066
1GB LPDDR2-1066
1GB LPDDR2-1066
# of NAND Packages
2
2
4
8
8
# of NAND die per Package
4
8
8
4
8
NAND Capacity per Package
64 GiB
128 GiB
128 GiB
96 GiB
128 GiB
Total NAND
128 GiB
256 GiB
512 GiB
768 GiB
1024 GiB
Spare Area
12.7%
9.05%
9.05%
9.05%
9.05%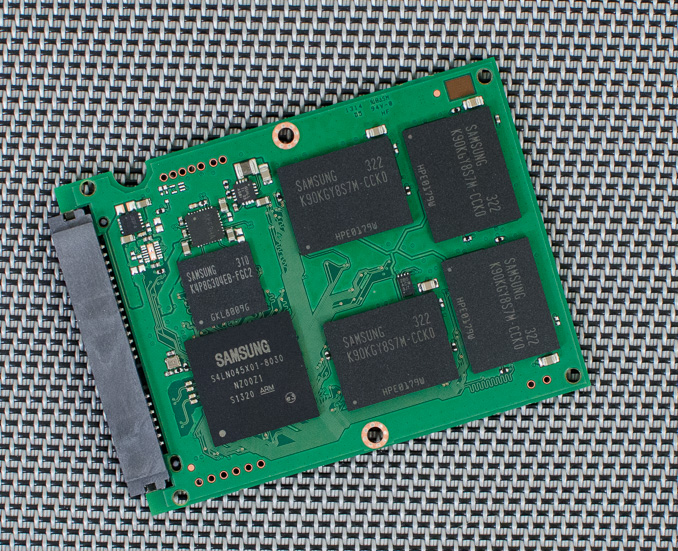 I've tossed internal shots of all of the EVO lineup into the gallery below: