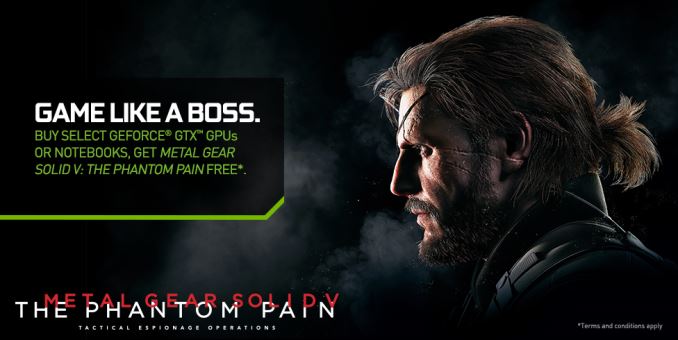 As the month of July begins to wind down, so does NVIDIA's existing Two Times the Adventure Game Bundle. With Batman: Arkham Knight having been something of a technical flop on the PC, no doubt NVIDIA is happy to finally move on to something more enticing for buyers, as the company is announcing that they have once again refreshed their game bundle promotion for GeForce products.
Launching today is a new bundle for the summer, which NVIDIA is calling the "Game Like A Boss" bundle, and is built around the forthcoming Metal Gear Solid V: The Phantom Pain. The Phantom Pain is the latest in the long, long line of Metal Gear games, and the follow-up to last year's Metal Gear Solid V prologue game, Ground Zeroes. Meanwhile, although an NVIDIA bundle game, The Phantom Pain is not a GameWorks game and won't feature any of NVIDIA's effects libraries, though the company is quick to note that it will work with SLI, DSR, and the company's other baseline features.
Like the previous Two Times bundle, the Phantom Pain bundle is for the bulk of NVIDIA's 900 series desktop lineup, and once again covers some of NVIDIA's mobile parts as well. The GTX 960, GTX 970, GTX 980, and GTX 980 Ti are included in the bundle on the desktop, and on the mobile side the GTX 980M and GTX 970M are included as well. Meanwhile the GTX Titan X will remain absent, as NVIDIA more often than not NVIDIA excludes them from bundles, as is the case here.
NVIDIA Current Game Bundles
Video Card
Bundle
GeForce GTX Titan X
None
GeForce GTX 980 Ti
Metal Gear Solid V: The Phantom Pain
GeForce GTX 980/970
Metal Gear Solid V: The Phantom Pain
GeForce GTX 960
Metal Gear Solid V: The Phantom Pain
GeForce GTX 750/750Ti
None
GeForce GTX 980M/970M
Metal Gear Solid V: The Phantom Pain
GeForce GTX 965M/800M Series
None
Finally, as always, these bundles are being distributed in voucher from, with retailers and etailers providing vouchers with qualifying purchases. So buyers will want to double check whether their purchase includes a voucher for either of the above deals. Checking NVIDIA's terms and conditions, the program is valid in all regions except China, with the program scheduled to run through September 1st (or while supplies last). As for The Phantom Pain itself, the game is being distributed through Steam and is currently scheduled for release on September 15th.
Source: NVIDIA