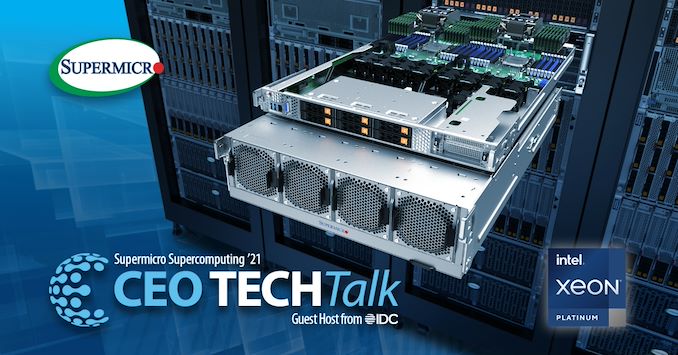 Supermicro has long been at the forefront of high performance computing and this week at the Supercomputing 21 conference, they shared where they believe HPC is headed, the technology behind their modular GPUs, innovations in high-performance storage solutions, and more.
It all started with a TechTalk from CRO Charles Lian about the future of HPC and the adoption of accelerated computing technologies.
Supermicro then discussed the innovative technology behind their modular GPU system design. They detailed how the unique system provides system administrators versatility and flexibility to standardize HPC/AI clusters precisely for their desired workloads on a single platform.
The company also took a closer look at the latest innovations in High-Density Computing in HPC environments. They discussed their new follow-up to the popular X11 system, the X12 Big Twin system based on the new 3rd Gen Intel® Xeon® Scalable processors.
You can also learn about how the cooling systems on the 8U SuperBlade® servers allow customers to use higher-performing processors, which is crucial for demanding HPC applications and helps deliver the highest performance density.
As AI, machine learning, and other high-demand applications continue to place increasing pressure on HPC hardware, organizations need to invest in infrastructure that can handle higher-performance workloads.
Efficient cooling plays a large part in the performance and endurance of HPC environments and the advancements Supermicro has made in liquid cooling for servers and racks can save operating costs and reduce the harmful effects on the environment. Check out their TechTalk from SC 21 to learn more.
You can't have a conversation about HPC environments without talking about storage and Supermicro is an innovator of high-performance storage solutions. At the conference, the company discussed some of the newest innovations in both hardware and software for high-performance storage systems, the connections between storage interfaces and GPUS, and more.
Supermicro also provided a comprehensive look at how they deliver rack plug-and-play total IT solutions for HPC organizations.
But that was just the TechTalks.
Supermicro also held four live-streamed in-booth sessions at the conference.
In the first session Raphael Wong, VP of Servers and Solutions for Supermicro, discussed how the advent of high-powered CPUs and GPUs has been driving the requirements for new server systems and pushing the limits of power and cooling requirements of data centers. He shared how the latest solutions from Supermicro help overcome these challenges including some customer success stories.
Later, Supermicro shared how the San Diego Supercomputer Center chose Supermicro systems based on Intel Xeon processors to develop a high-performance resource for conducting artificial intelligence (AI) research across a wide swath of science and engineering domains.
As HPC organizations continue to grow to meet demands, the cost is always one of the top concerns when choosing new systems to deploy. Supermicro showed how Livermore computing is saving costs by standardizing storage solutions across their applications.
The last in-booth session was all about how Supermicro helped Preferred Networks develop its MN-3 solution, which was twice ranked No. 1 on the Green500 list.
Needless to say, Supermicro had a lot of great stuff to talk about at SC 21 with a whole range of presentations covering the challenges and latest innovations in the HPC space. You can check out everything from Supermicro at SC 21 here.